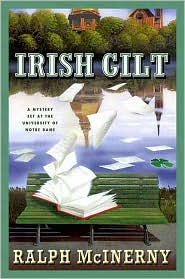 These are the latest books I've read. I guess I am on a Ralph McInerny kick right now. I've enjoyed reading his Notre Dame mysteries.
Both are pretty lightweight, but fun to read even when you can guess who done it and how the "romance" will turn out. All of his characters are quirky, which I like and I like the way he incorporates his faith into the books.
Where Are You Now?
is the latest book by Mary Higgins Clark. I spent a yummy Saturday afternoon curled up in a comfy chair, covered in a warm afghan reading this. Carolyn McKenzie's brother Mack disappeared 10 years ago. Now she is determined to find him. Her search leads her into danger, not knowing who can be trusted. Having read all of Mary Higgins Clark's books through the years, I was able to figure out the bad guys pretty easily. But it was fun to read and a great way to spend a cold, cloudy Saturday.